Domestic Landscaping & Gardening services.
Area's we cover
Based in Bedford we cover the UK
Standards
Over 30 years in business
Good Health and Safety policy
Full understanding of environmental regulations eg. SUDS and Natural Environment and Rural Communities Act 2006
Registered waste carrier under the control of pollution (amendment) Act 1989 (That means no fly tipping)
Qualified NPTC tree surgeons
CRB checked staff
Efficient project management
£1m Public liability
Equal opportunities employer
Hard Landscaping
Block Paving available from Elstow Landscaping and Gardening services:
Hard landscaping, is everything except for plants and soil and is a fundamental to the design of your garden. Hard landscape materials give a sense of permanence and structure that hold a garden together.
Your garden should be used and enjoyed and needs to be constructed taking into account your needs and wishes within the constraints of a particular site.
A garden is an 'outside room' which should be somewhere to sit, to entertain and to play, somewhere which can also be decorated and furnished, to suit your own tastes and needs.
There are many possibilities for developing outside space such as: outdoor lighting, sound systems and heating, living walls and water features are just some recent ideas. More than any room in your house, your garden will allow you to express yourself and to create something special.
The demand for better gardens has allowed Elstow Landscapes to respond with increasingly inventive and unusual structures, and more imaginative use of materials. All of this means that your garden can be a truly welcoming environment that can be moulded to your individual tastes and needs, whether you prefer a minimalist look, a calming space, a Moroccan courtyard, an Italian haven or a wild garden.
Elstow Landscapes can source hard landscaping materials to suit any design of garden. We would welcome the opportunity to discuss your individual requirements during a free consultation.
Soft Landscaping
Soft Landscaping Covers:
Planting
Turfing
Shrub border regeneration
Mulching
Quality grade topsoil
Soft landscaping is an integral part your garden design or can be provided as a 'stand alone' service.
Soft landscaping offers you the following benefits:
A planting plan designed to suit your garden
It is essential that plants are chosen to suit conditions in your own garden. In order to thrive each plant must be chosen to suit its exact location within your garden. Soil PH, soil structure, aspect and drainage all have to be considered.
Many people gain a huge amount of enjoyment from encouraging wildlife into their garden. We can advise you on a planting scheme which will support insects, wild birds and other local wildlife.
Through our network of respected wholesale nurseries, we will source all of your trees, shrubs, herbaceous plants, grasses, herbs, fruit trees and water plants at a cost effective price, ensuring value for money for our clients.
Quotations or Estimates to your own detailed specification and scaled designs are available, and all quotations are free of charge and without obligation, except for the purpose of insurance claims.
Elstow Landscapes have been established since 1990. At Elstow Landscapes we strive to offer a professional and friendly service. We have a team of reliable well trained staff and from the moment you make the all important initial enquiry to the day the project is completed, you can be assured of our best attention at all times.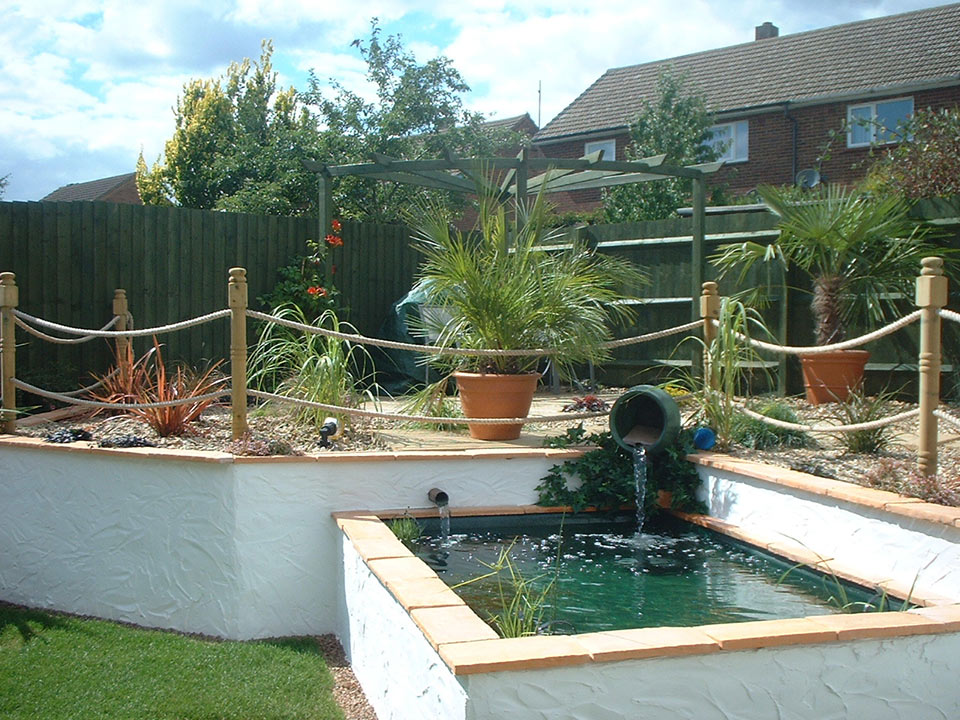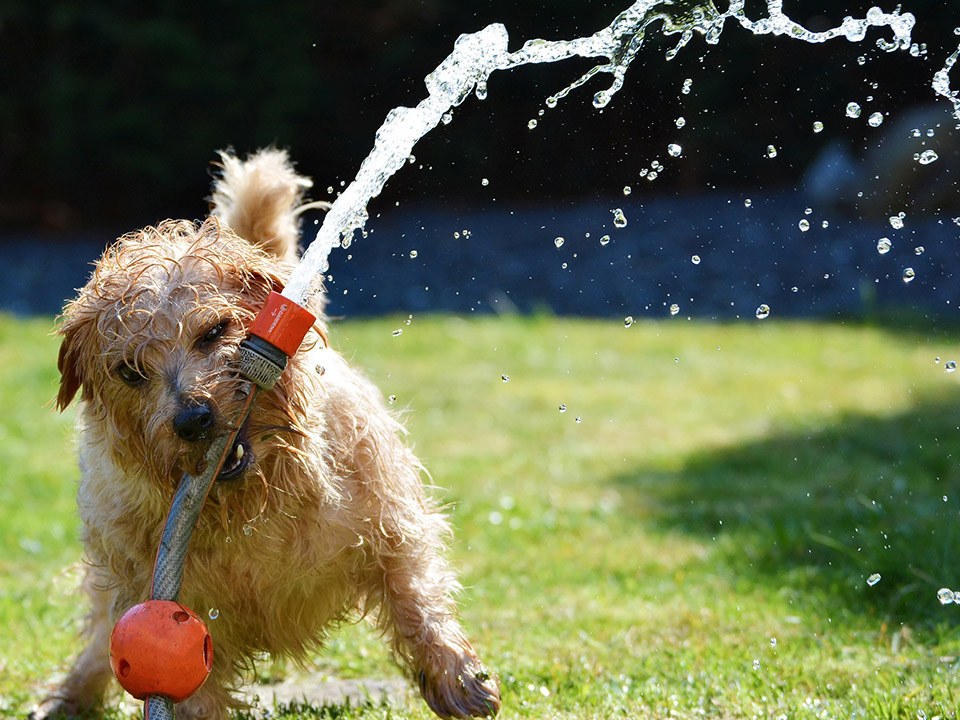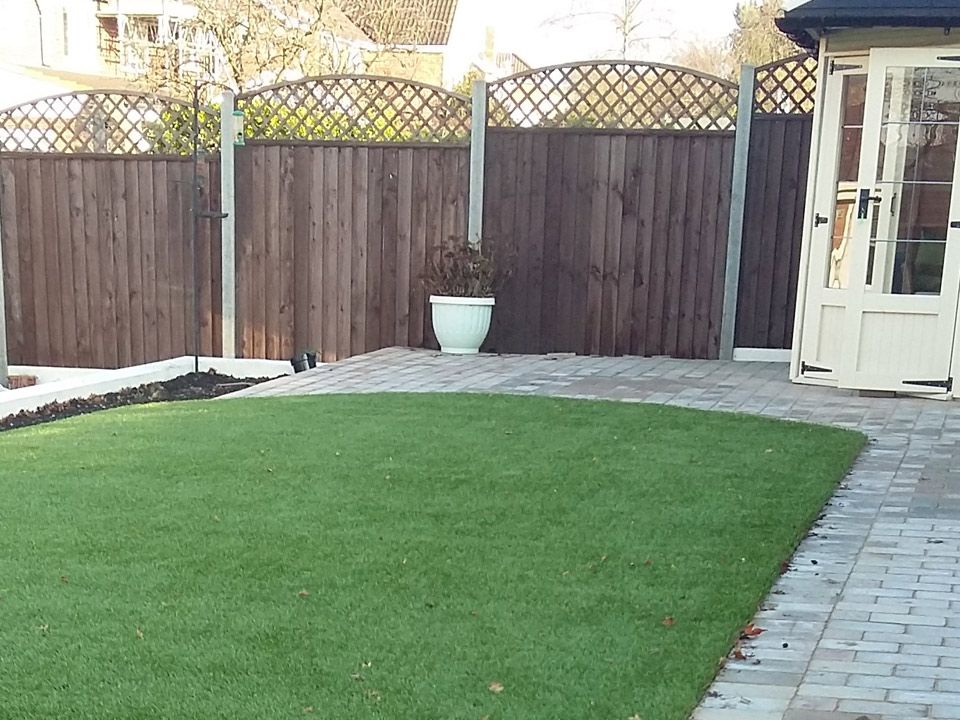 Water Features
There is nothing nicer on a warm summer evening than sitting in the garden with a favorite cool drink. Now try and imagine the soft calming effects of slow running water.
Elstow Landscapes are the water feature experts. We can install every range of water feature to suit every individual taste from:
A small bubbling pebble pool feature to giant drilled natural monolith stones.
A small ornamental pond to a spectacular koi carp feature.
A small natural pool to lake superior.
Furniture
When you have the garden of your dreams and the basic hard landscaping has been completed, why not complete the picture by adding the perfect seating that every garden needs and relax in your new haven.
As a professional landscaping company, we have done all the hard work by sourcing the highest quality items available made from the finest materials such as teak, oak and metal garden furniture at affordable prices, often cheaper than garden centres and of a higher quality
We can supply virtually anything you desire. Take a look at some of the examples to give you an idea.
Lighting
Why not add some soft, warm and welcoming lighting to set the mood on those warm summer evenings.
Well positioned lighting transforms a garden into another world, you just won't want to go back indoors.
Elstow Landscapes supply and install an endless variety of lighting that will show off your garden in a different light!
You can choose from looks such as chrome, solid brass, carved stone, stainless steel and wood, timed mains lighting or solar powered, and underwater lighting for your koi pond.
Lighting has many uses, not just to light the way but to emphasise detail in your garden, for example if you have a feature tree, a pretty but hidden corner, a special personal collection of roses that you'd love to see at night.
Tree Surgery
Tree surgery is a practice of repairing damaged trees to restore their appearance and to arrest disease.
Injured or diseased parts are first removed, even small cavities in the bark may harbor injurious fungi and insects.
Elstow Landscapes being professional tree surgeons commonly perform many tasks in addition to surgery that are difficult for the individual gardener e.g., large-scale pruning and providing proper support when needed.
As a last resort it is sometimes necessary to actually fell a tree. This can be because of a number of reasons from a tree causing damage to property to the tree actually having damage of some sort. There are a number of different ways in which a tree can be taken down and this would depend on the surrounding environment that would dictate the best method. We can safely remove virtually any tree to ground level. We have years of experience of working with all sorts of trees and sites, including removing very large trees from very restricted sites.
Many trees in residential areas have become the subject of Tree Protection Orders, this is where the local authority has put a designation on a tree to say that it cannot be removed or worked upon without prior consent from the local authority. So long as there are valid reasons for the work being carried out to be done then there is not normally a problem getting this permission from the local authority. This process normally takes a number of weeks although in emergency cases such as dangerous trees it can be applied for and obtained in less than a week.
Ornaments
There is a seemingly endless choice of oranaments for the project, from pots, sundials and figurines, right up to designer sculptures.
At Elstow Landscapes we can source and supply many varieties of garden ornaments that will be pleasing to the eye and give your garden that extra edge.
Paving and Driveways
A driveway is more than just a place to park a vehicle, it is an important entrance feature for your home or business. With our expertise and a variety of material applications, we can create a driveway that is not only functional, but aesthetic.
When complemented by the right plantings, lighting, and landscape accents, we have the ability to transform your driveway into a unique feature that distinguishes your home. In its' simplest form a walkway is the shortest route between two points. Geometry and pattern can create a sense of formality. Curved lines, on the other hand, can create a sense of informality, mystery, and blend naturally into the landscape.
The addition of steps, landings, and site furnishings can further transform a simple path into a stylish complement to your property. Patios are structural features that, as extensions of your home, create multifunctional spaces for outdoor living.
Designed to accommodate your needs, a patio can increase the enjoyment of your garden throughout the year. Starting with a solid foundation, our patios are built to exacting standards, with an attention to detail.
Turfing
There's nothing like a lawn to bring the various disparate elements in a project together. It's easy on the eye and helps highlight other more ornamental features within in the garden. Best of all, it adds much needed space to the garden and provides evergreen continuity too, but a lawn shouldn't be viewed as a growing carpet that looks after itself. Think of it as thousands of tiny plants crammed together that need to be cared for like other plants, even though they are not quite as demanding. The great thing about a lawn is that anybody can grow one successfully regardless of their experience or love of gardening. A lawn is easy to look after and continues to look good if it's not abused too much
Do you really want a lawn?
The first thing to consider when covering the floor area of a garden is what finish suits you and your project best. Although a lawn is the traditional 'material', it requires looking after and is less suitable in certain circumstances, especially tiny, restricted areas, dense shade, hot dry spots and on steep slopes where it's difficult to maintain. In these situations, groundcover plants, landscaping materials or even wildflowers might be a better option.
Artificial Grass?
Low maintenance, pet friendly, no weeding, looks natural, no bald spots, long lasting.
Artificial grass has come a long way from its early days of school football fields. We can install a very natural looking lawn for those who want not hassle gardens, areas with high shade and show homes or office spaces.
Lay it in opposing directions and instant stripped lawn.
Decking
There are so many plus points to having decking, a great one is that it is installed to the height of your house floors, so not only is there no step down, from the inside it can make your rooms feel more spacious.
Installing decking can make great use of a dull corner of your garden, ideal for eating or entertaining on or just simply soaking up the sun.
Quotations or Estimates to your own detailed specification and scaled designs are available, and all quotations are free of charge and without obligation, except for the purpose of insurance claims.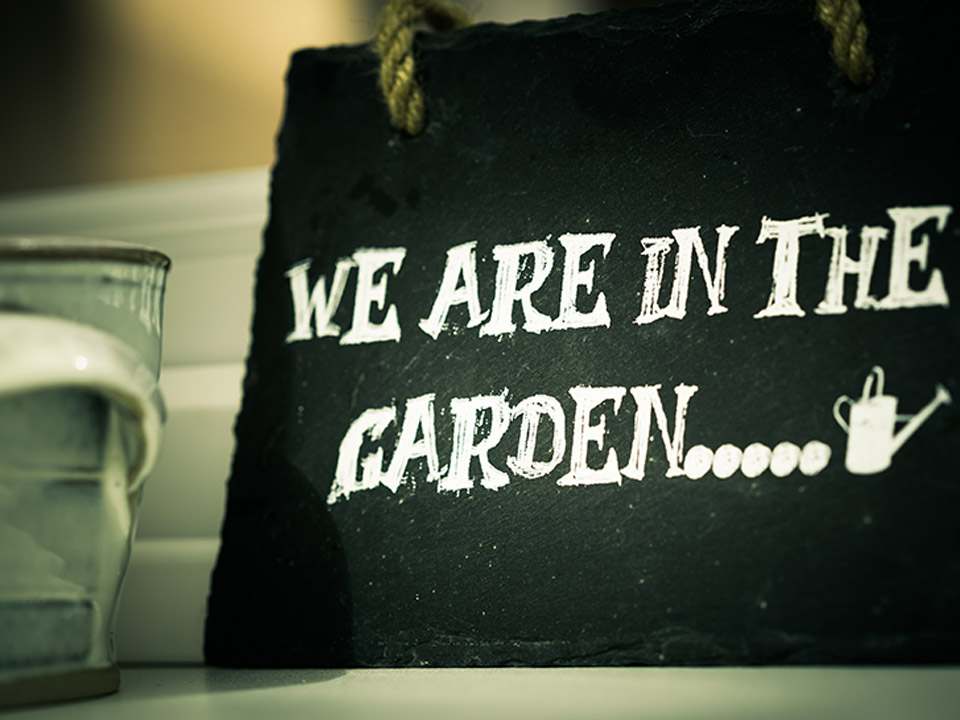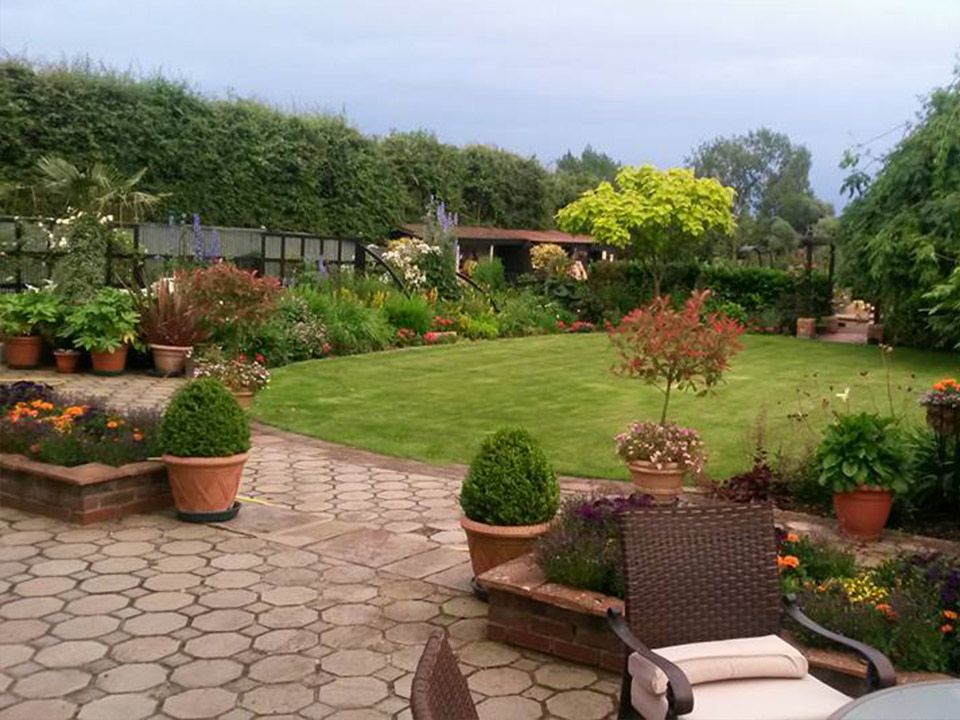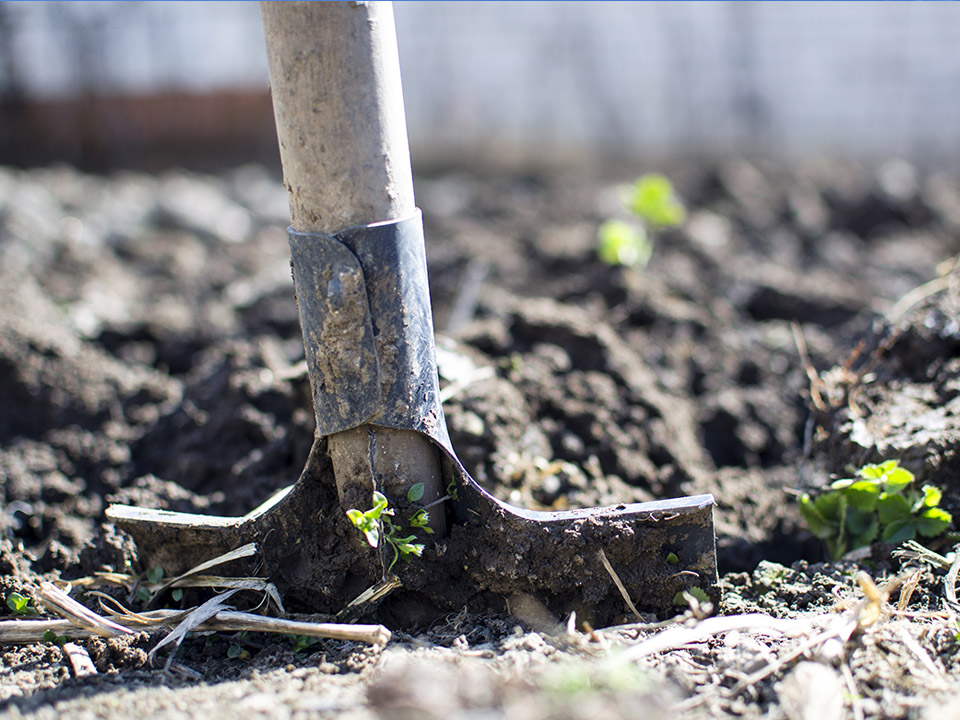 Steve & the team did fantastic work and even finished early. Cannot recommend them enough
Outstanding work on a monthly basis keeping our pub garden looking fresh and clean.
Thank you
Very impressed, even when things were more difficult than anyone would have thought, the team for Elstow Landscapes found a solution that everyone was happy with and got the job done.
The team at Elstow Landscapes replaced an old fence around my paddock. Now she is secure again, it looks great and the price was reasonable too.
Get A Free Estimate Today
Quotations or Estimates to your own detailed specification and scaled designs are available, and all quotations are free of charge and without obligation, except for the purpose of insurance claims.
Our Location
Elstow Landscapes
Ridgeways Farm
Kempston Rural
Bedfordshire
Beds